Advanced technology, MPPT tracking efficiency up to 99.9%, significantly improve the efficiency of energy utilization for your solar power system, reduce your loss.
Automatic recognition of battery voltage 12V/24V/36V/48V, suitable for different solar system
Support different types of battery, such as lithium battery, gel battery, sealed battery, opened battery and customized ones etc.
The MPPT solar controller has a current-limiting charging mode. It would automatically lower the charge curret to its rated level
LCD display for users to not only check device operating data and status, but also modify solar controller's parameters with user's demand.
LED fault indicators to and LCD display information to help users quickly identity system faults.
Except protection against battery charge and discharge and overload, the controller also have lightning protection and over-temperature protection to battery to protect battery.
The controller can used seperately or parallel for big power plant.
Product details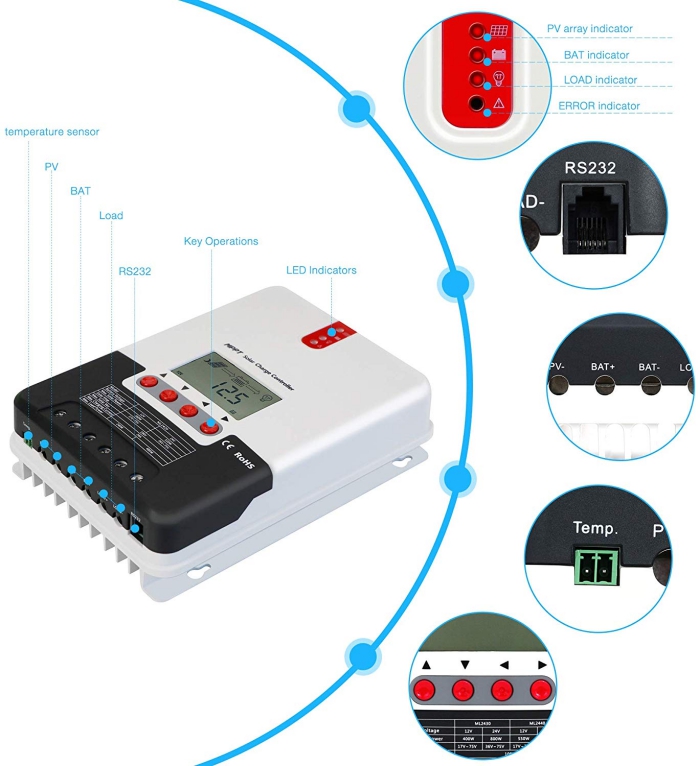 Technical specification for MPPT solar controller 30A 12V 24V 36V 48V
Parameter

Value

Model

ML4830

System voltage

12V/24V/36V/48V Auto

No-load loss

0.7 W to 1.2W

Battery voltage

9V to 70V

Max. solar input voltage

150V (25°C), 145V (-25°C)

Max. power point voltage range

Battery voltage +2V to 120V

Rated charging current

30A

Rated load current

20A

Max. capacitive load capacity

10000uF

Max. photovoltaic system input power

400W/12V;
800W/24V;
1200W/36V;
1600W/48V

Conversion efficiency

≤ 98%

MPPT tracking efficiency

> 99%

Temperature compensation factor

-3mv/°C/2V (default)

Operating temperature

-35°C to +45°C

Waterproof level

IP32

Weight

2.3kg

Communication method

RS232 RS485

Altitude

≤ 3000m

Product dimensions

226*182*81mm
This MPPT Solar controller 30A is widely used for off-grid solar power system including home solar power system, solar monitoring system and solar telecom system etc.