Though the cost of an inverter is less than 15% of the total amount in a power system, without it, the whole system doesn't work. An Inverter is one of the most important pieces of equipment in power systems including solar power systems and UPS backup systems. It's a device that converts direct current(DC) electricity to alternating current(AC) electricity for most home appliances use.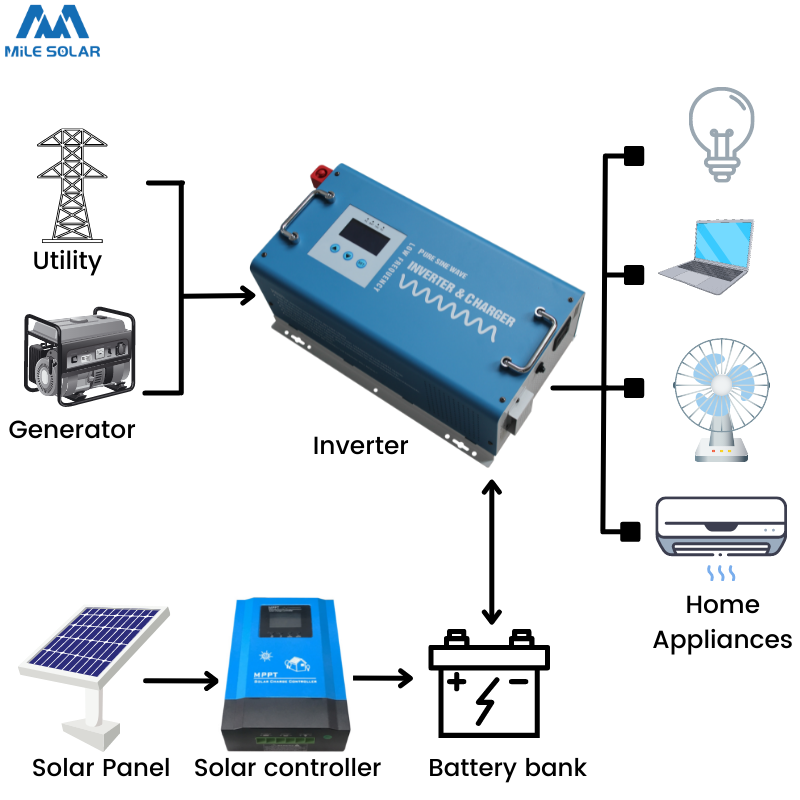 Key Features:
Robust and sleek design
Using Low-frequency toroidal transformer, less than 1Amp idle loss.
pure sine waveform output with little harmonic distortion, suitable for all kinds of appliances.
Peak efficiency > 90%
Single-phase 110V, 120V, 220V, 240V AC output, customized based on your request.
AC mains priority for backup power systems or DC priority working mode for solar power systems.
built-in AC bypass replay, UPS function
multi-stage smart charger with max 30A to charge gel, AGM, lithium battery
4 millisecond typical transfer time, non-stop for computers during working.
LCD & LED display used to view inverter status and working programming including AC input, AC output, DC input, battery, load, charger current, battery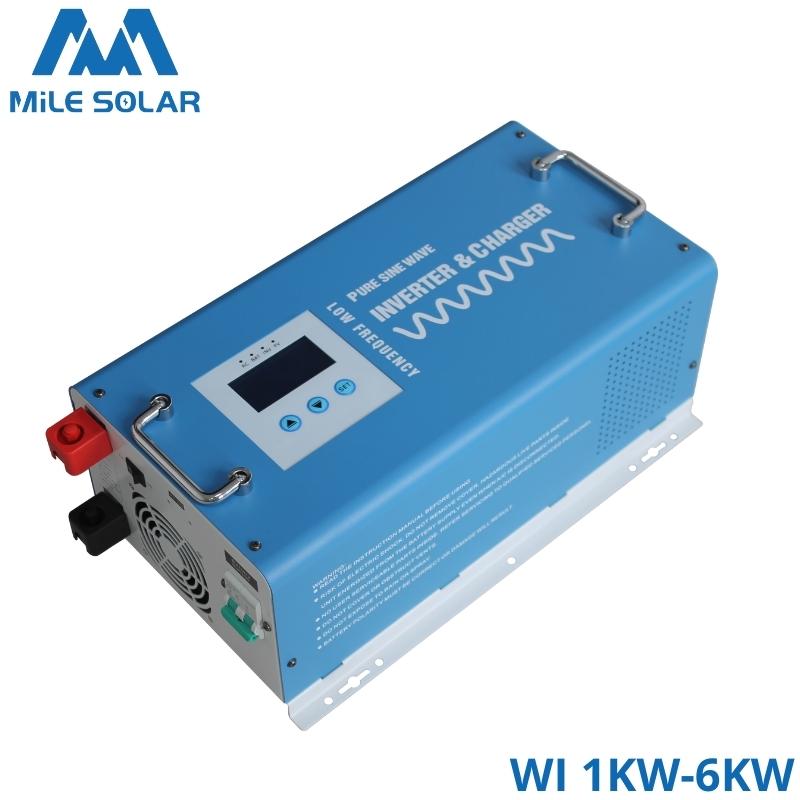 The WI series power inverters output a pure sine wave similar to the waveform of the grid power. In a pure sine wave, the voltage rises and falls in a smooth fashion with very low harmonic distortion and cleaner utility-like power. This gives users stable enough power to operate tools, air conditioners, fans, lights, computers, and other electronics without any interference. Pure sine wave inverters are in many cases more efficient, allowing users to use less energy and allow for more device capability. The main advantage of pure sine wave inverters is that they are used to operate sensitive electronic devices that require high quality waveform with little harmonic distortion. Almost every electronic device could be powered using a pure sine wave inverter.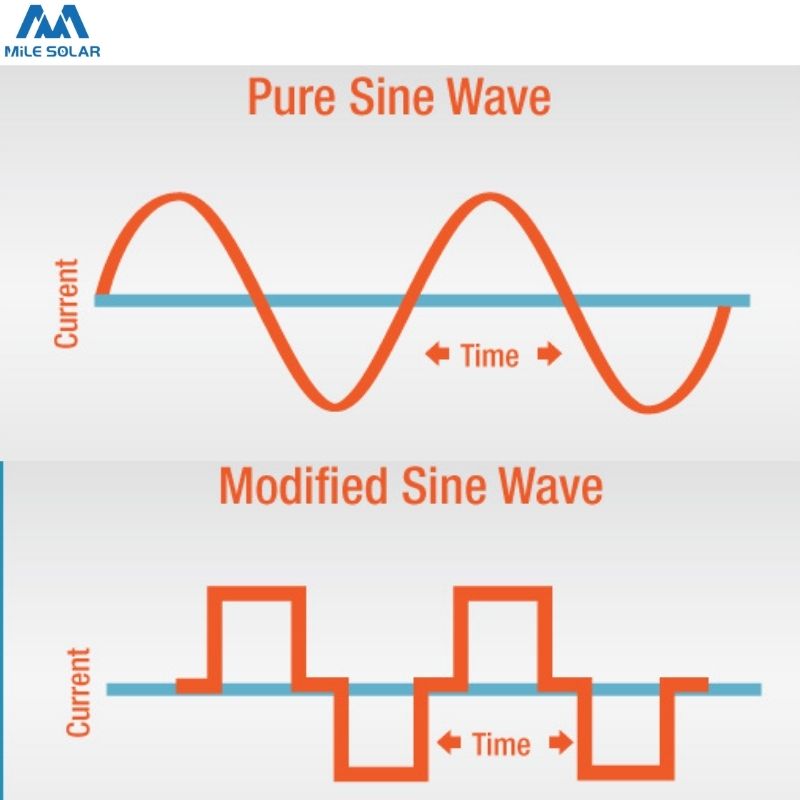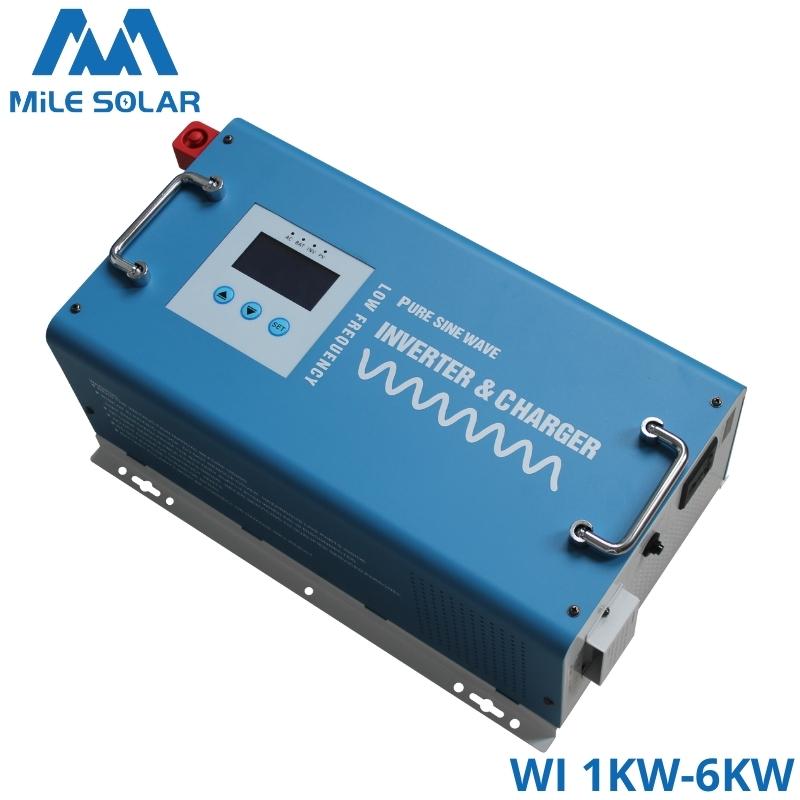 The inverter charger comes equipped with two working modes that can be changed using a set.
Utility Priority or AC First
Under this setting, once the inverter charger is connected to the utility, it will power the loads using the electricity from the shore supply. The inverter charger will start charging the battery bank using the AC source, if necessary. In case of power outages, the system automatically switches to battery-powered mode.
Application: home backup power systems for somewhere facing power failures some hours for a day.
Market-oriented: Thailand, Philippines, Nigeria, Senegal, Mali, Cameroon, Lebanon, Pakistan, Haiti, Venezuela, Chile, etc.
Battery Priority or DC first
Under this setting, the inverter charger will provide power using the connected battery bank even when it detects an AC source. When the battery voltage reaches the low voltage setpoint, the inverter will power the loads using the connected AC source but will not charge the battery bank if the charge current is set to 0A.
Application: renewable energy systems such as wind power systems, solar power systems, transportation Vehicles, trucks, etc.
Market-oriented: Good sunshine area or islands. Thailand, Philippines, Nigeria, Senegal, Mali, Cameroon, Lebanon, Pakistan, Haiti, Venezuela, Chile, etc.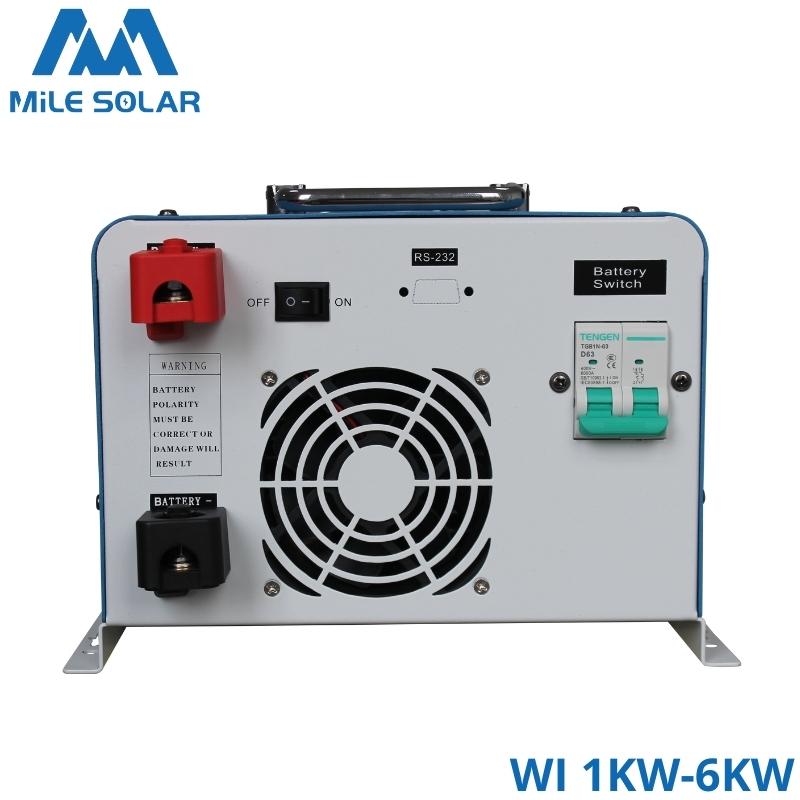 WI inverters come with a battery breaker according to users' requests.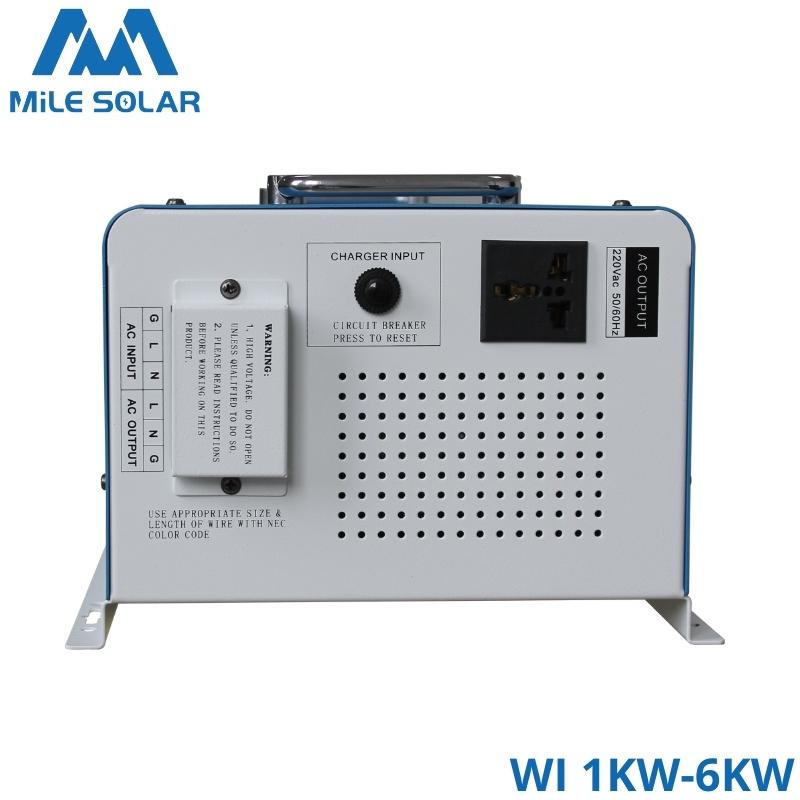 Warning print in the inverter for users or installers before installing the inverter.
WARNING:
l READ THE INSTRUCTION MANUAL BEFORE USING
l RISK OF ELECTRIC SHOCK. DO NOT REMOVE THE COVER. HAZARDOUS LIVE PARTS INSIDE
UNIT ENERGIZED FROM THE BATTERY SUPPLY EVEN WHEN A/C IS DISCONNECTED.
l NO USER-SERVICEABLE PARTS INSIDE. REFER SERVICING TO QUALIFIED SERVICED PERSONEL.
l DO NOT COVER OR OBSTRUCT VENTS.
l DO NOT EXPOSE TO RAIN OR SPRAY.
l BATTERY POLARITY MUST BE CORRECT OR DAMAGE WILL RESULT.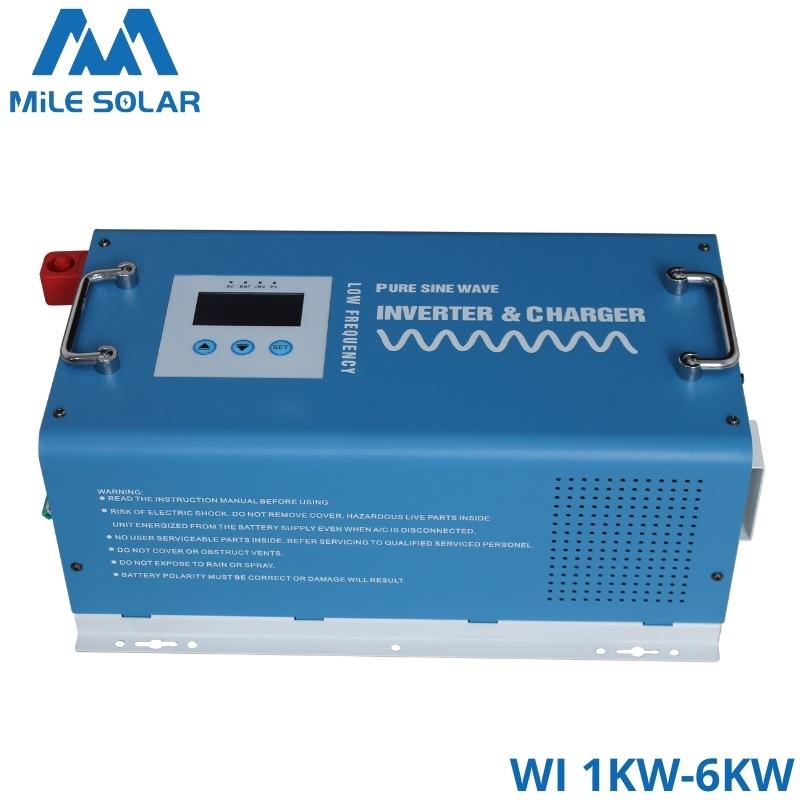 Why choose us?
A. Professional
Having been in the inverter and solar industry for over 10 years, MILE SOLAR understands what customers are caring about from solar manufacturing and exporting solar goods.
B. Strictly quality control
MILE SOLAR always keeps strictly controls the quality of our solar products from raw materials selection, production assembling, product testing, packing, and shipping. Each power inverter and other solar equipment is tested by its function before packing.
C. Integrity, Honesty and Responsibility
MILE SOLAR take every customer's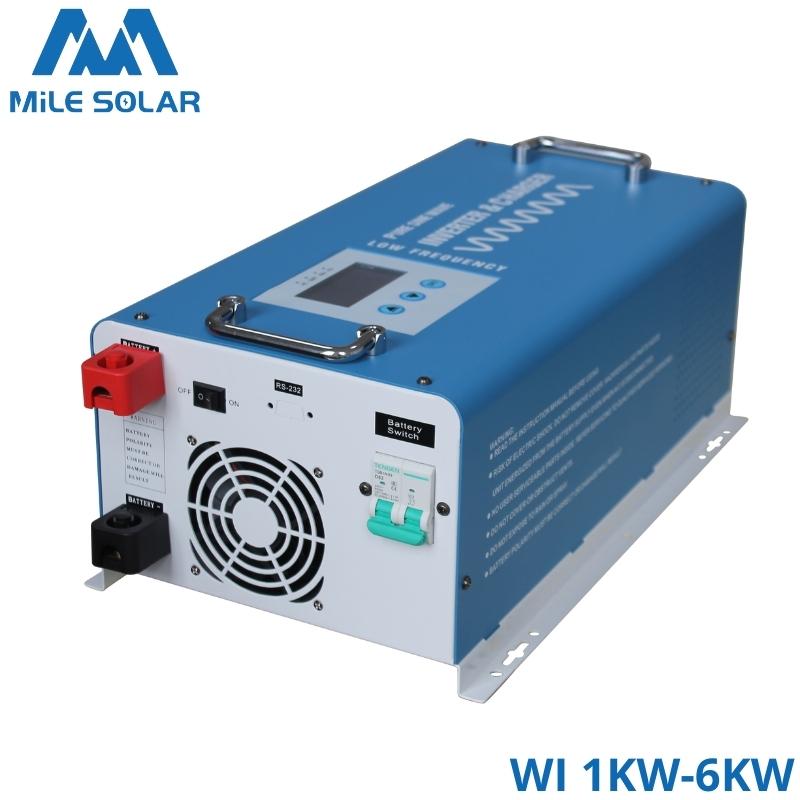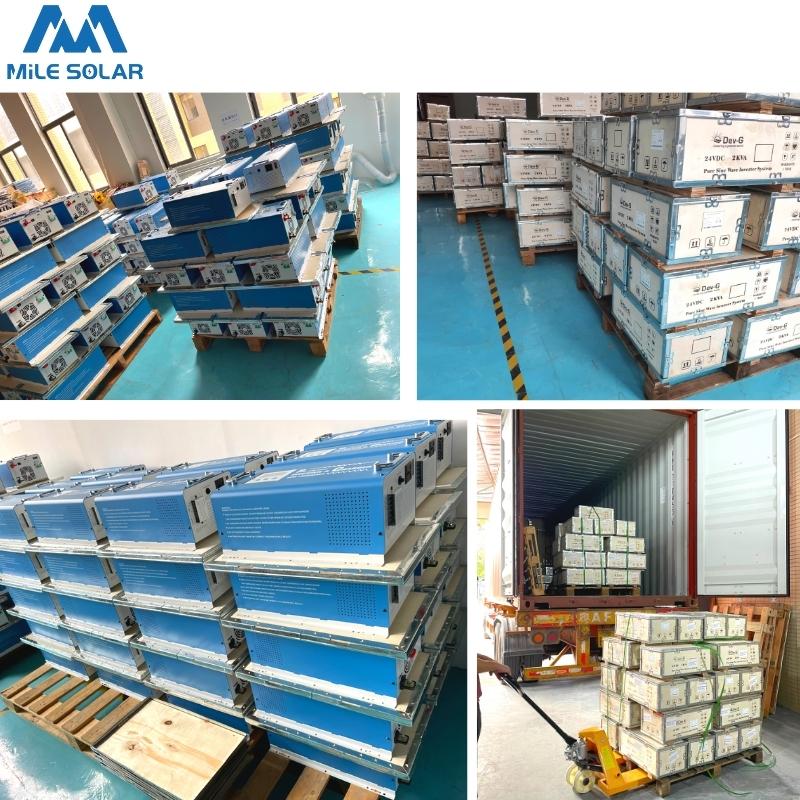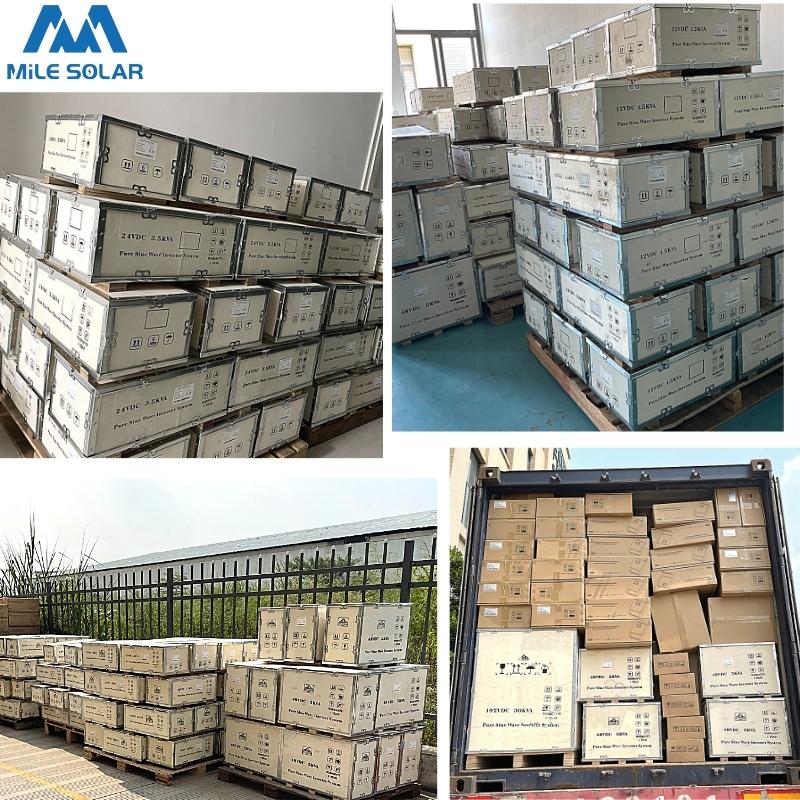 FAQ
Q1: Can I have a sample/trial order for a test?
A: Yes, we accept sample order/trial orders for testing.
Q2: When will you deliver the goods?
A: 3-5 working days for sample order; 7-15 working days for quantity order after receiving the deposit payment.
Q3: Do you offer a guarantee for your solar products?
A: Yes, 18 months for inverter and inverter-related products including solar generator, solar inverter. 2 years for solar lights.
Q4: Can you do OEM/ODM?
A: Yes, we accept OEM/ODM orders for power inverters, solar inverters, MPPT solar controllers, solar generators, solar panels and solar lights.
Please send your detailed request to our sales specialist for the best quote.