Pure sine wave ouptut, strong ability to take the loads
IGBT module, strong anti-loading shock capacity
Working for 3 phase and single phase appliances
DSP intelligent control technology.
Double protection, easy installation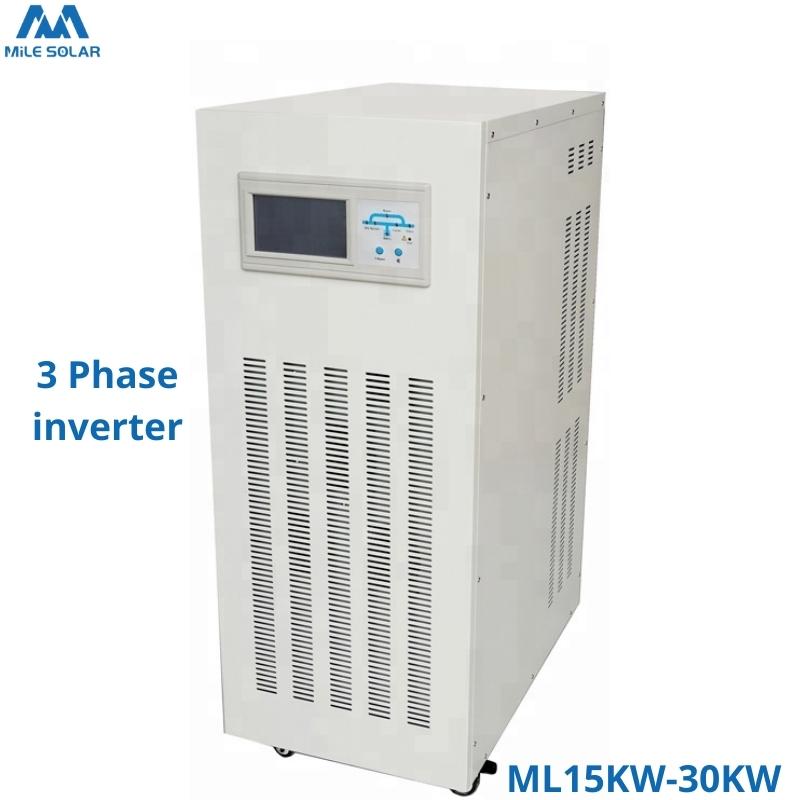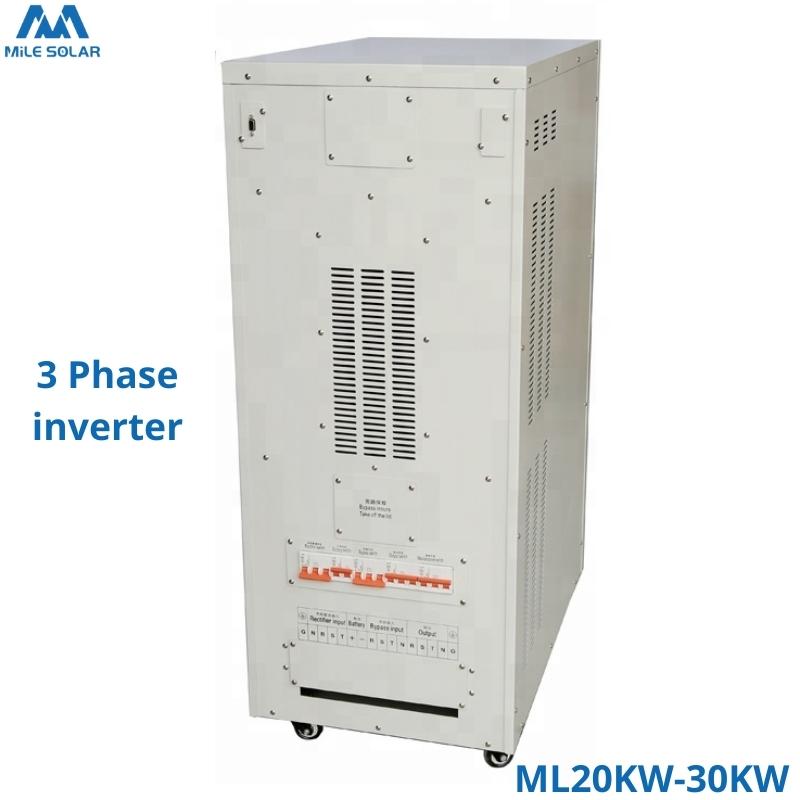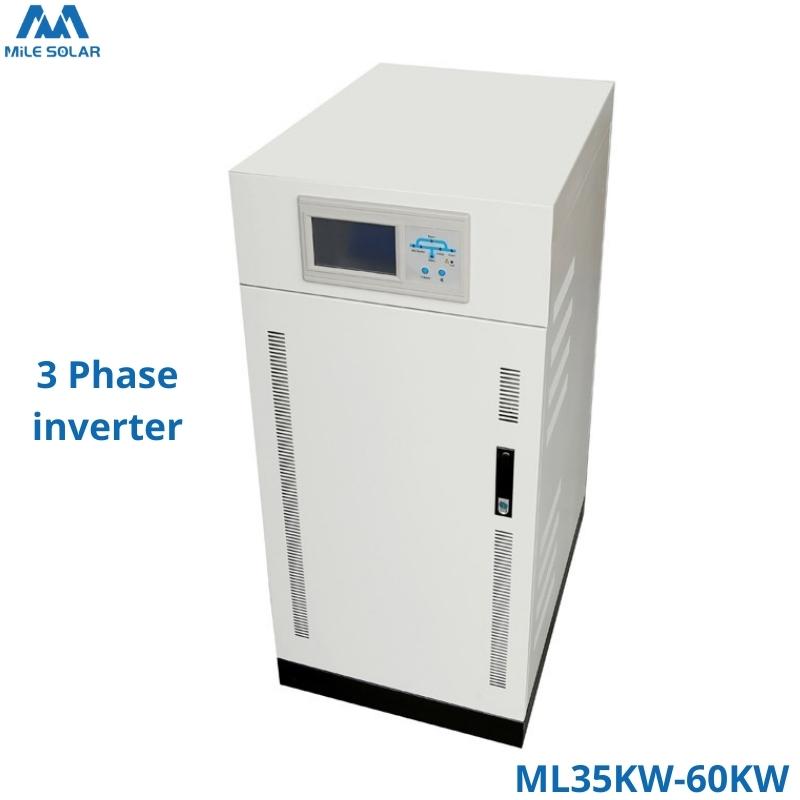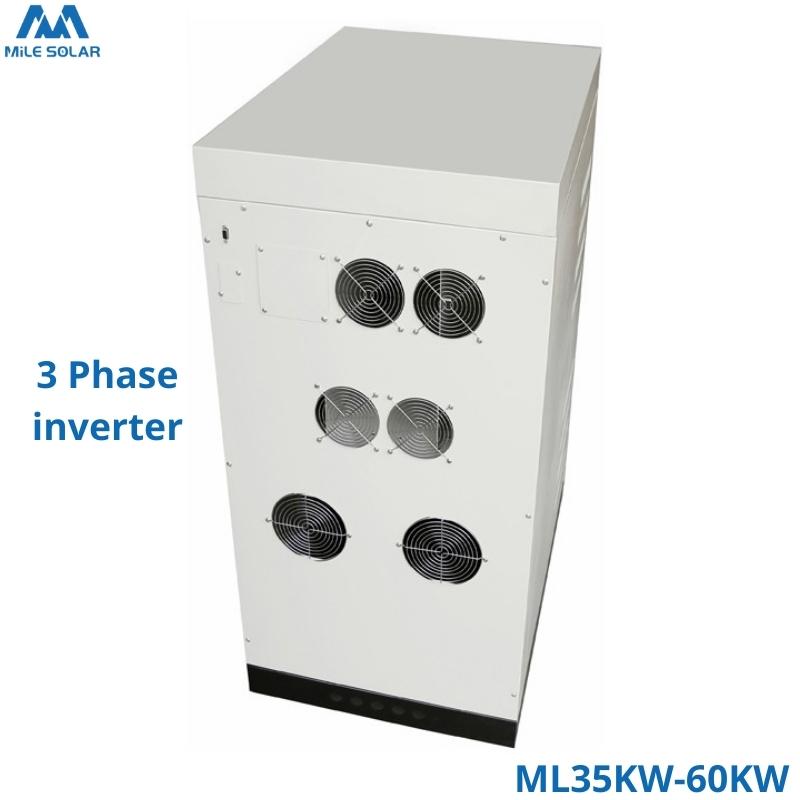 Power capacity of these 3-phase inverters: 15KW 20KW 30KW 35KW 40KW 50KW 60KW 80KW 100KW 120KW 150KW 200KW
DC input voltage: 192VDC, 240VDC, 360VDC 384VDC options for 15KW 20KW 30KW 35KW 40KW three phase inverters.
360VDC, 384VDC options for 3-phase inverters from 50KW to 200KW.
AC output voltage: 3 phase 380V, 400V, 220V options
Please consult our sales team for more details regarding your project.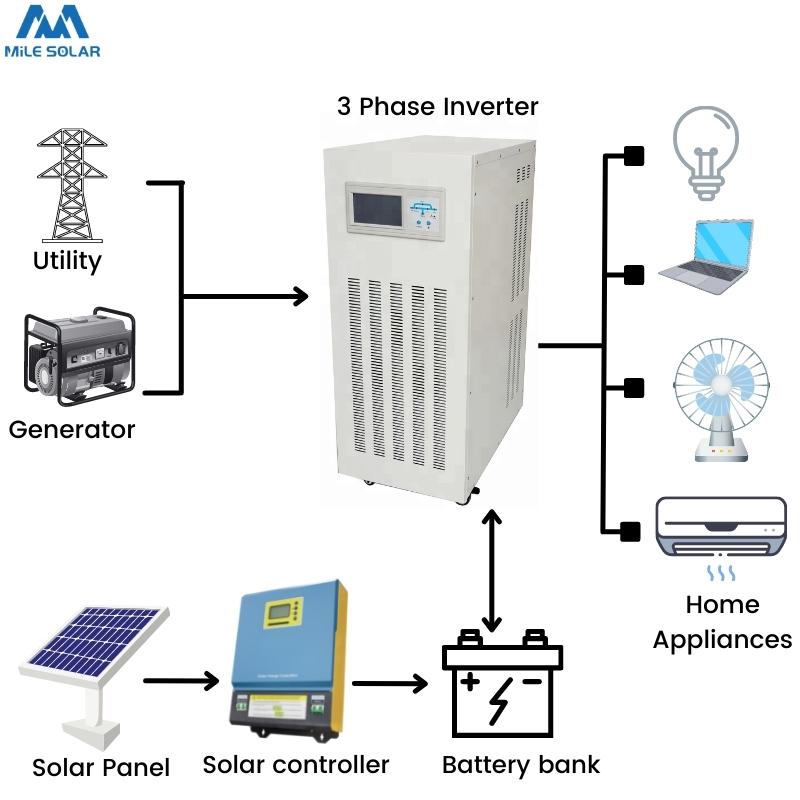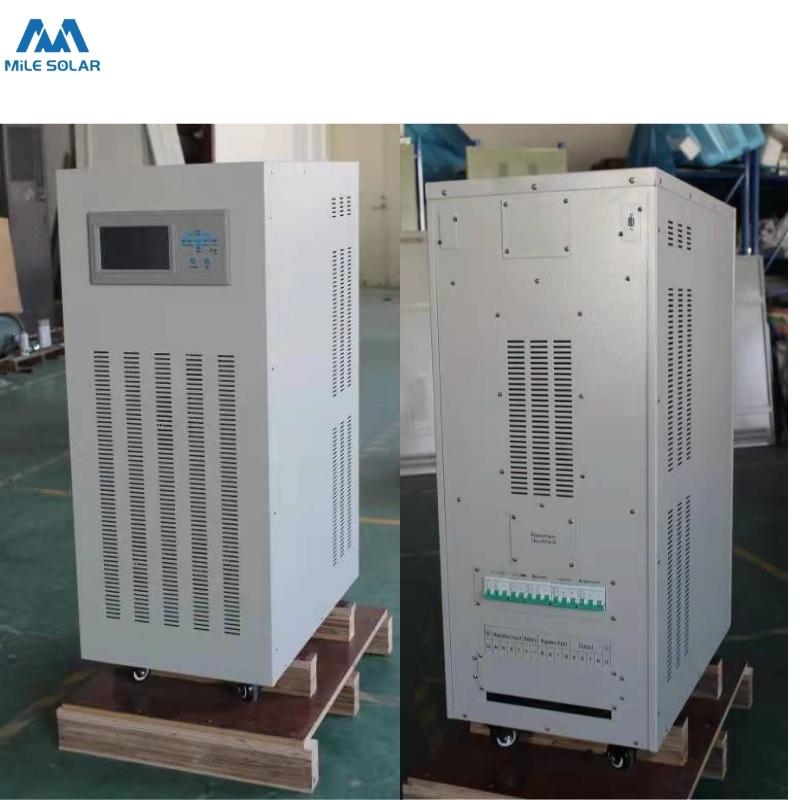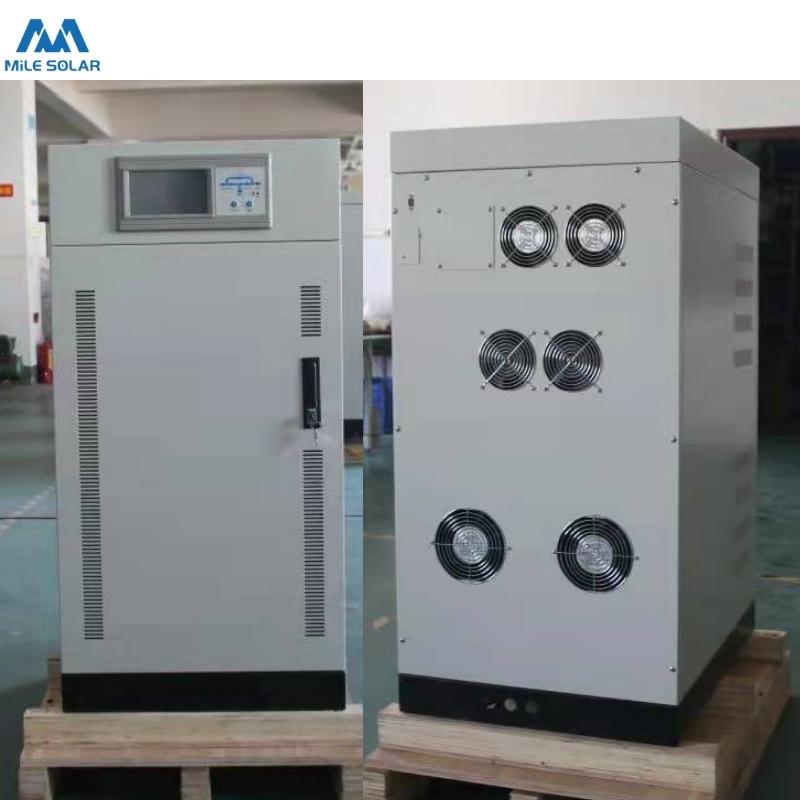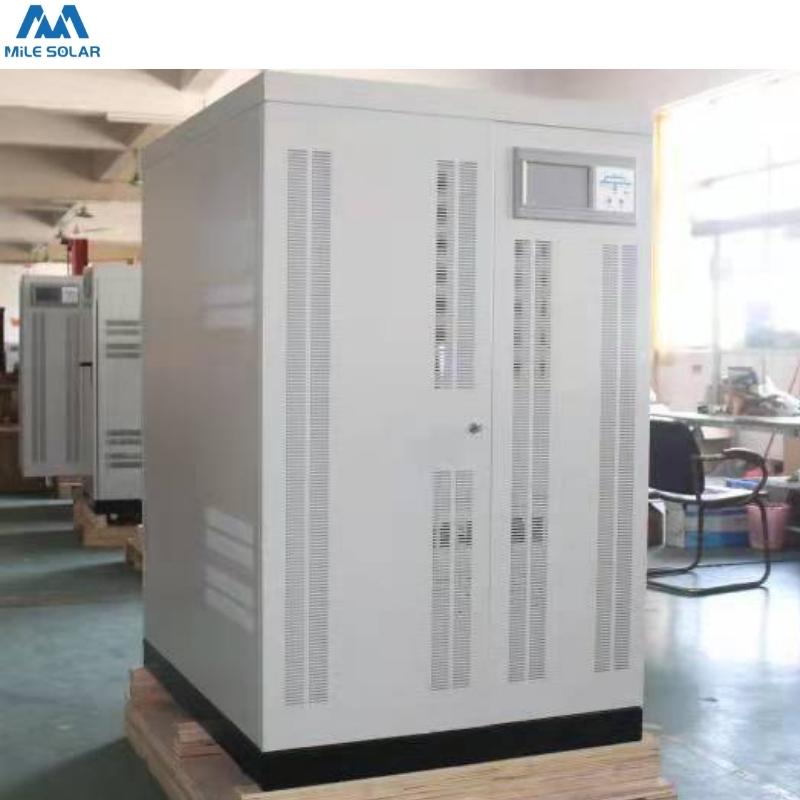 FAQ
Q1: Can I have a sample/trial order for a test?
A: Yes, we accept sample orders/trial orders for you to test by 1 product or mixed solar product.
Q2: Can you do OEM/ODM?
A: Yes, we accept OEM/ODM orders for inverter, solar inverter, MPPT solar controllers, solar generator and solar lights.
Please send you detailed request to our sales specialist for best quote.
Q3: When will you deliver the goods?
A: 3-5 working days for sample order; 7-15 working days for quantity order after receiving the deposit payment.
Q4: Do you offer a guarantee for your solar products?
A: Yes, 18 months for inverter and inverter related products including solar generator, solar inverter. 2 years for solar lights.
Technical datasheet for 3-phase inverters 20KW - 100KW
Please contact us for more details
Model
ML20K
ML30K
ML40K
ML60K
ML100K
ML150K
ML200K
Power
20KW
30KW
40KW
60KW
100KW
150KW
200KW
Input
DC voltage
192VDC/240VDC/360VDC/384VDC
360VDC/384VDC
Phase
3 phase 4 wire and ground
Voltage Range
380V±20%(3 phase), Single phase 220V
Frequency Range
45-65Hz
Rectifier
3 phase 6 pulses, 12 pulses is optional
Output
Phase
3 phase 4 wire + ground
Waveform
Pure sine wave
Crest Factor
3:01
Rated Voltage
380/400/415V optional ±1% for static load, 5% for fluctuant load
Phase Voltage setting
200-244VAC, pls confirm before order
Transient Response
±5%,10ms
Frequency
50/60 Hz ±0.05%
Total-harmonic distortion
< 3% linear load, <5%(nonlinear load)
short circuit current
Short current for 0.1s(200% current)
Overload Capacity
Overload 125% for 10 Mins, 125%-150% for 1min, automatically resume when the load becomes normal
Bypass
Type
Static state +manual maintenance bypass
Input Phase
3 phase 4wire and ground
Input Voltage Range
15% - 25% (the front control panel selectable)
Transfer Time
Inverter / bypass transfer switch time(Overload): 0ms inverter / bypass transfer switch time (fault inverter) 1ms
Efficiency
Whole unit
>85%
Inverter
93%
Remote Signaling
Dry contact (battery low, battery discharging, bypass / fault); output 12vdc/80mA, Optional parts
Environment Temperature
0-40 degree Celsius
Relative Humidity
Less than 95% (without condensing)
Noise
<60dB
Degree of protection
IP20
Dimension(mm)
1000*660*1460
1100*660*1460
1500*840*1800
Package Size(mm)
1150*780*1700
1280*1080*1700
1680*1020*2000
Net Weight(kg)
150
190
350
690
800
1050
1100
Gross Weight(kg)
175
215
380
750
930
1100
1130
What's the application for the 15KW 20KW 30KW 40KW 50KW 60KW 3-phase solar inverter?
These three-phase solar inverters 15KW 20KW 30KW 40KW 50KW 60KW is mainly used in solar power storage system for power failure area.
Till now, our customers have purchased these 3-phase solar inverters to provide sustainable power energy to their farms, restaurants, milling machines, hotels, hospitals, airports, telecom base stations, and military camps.